Melissa Meagher

Affiliate Therapist, MFC#53754
Email – melissa@bridgescounselingcenter.com

Phone – 916-544-8993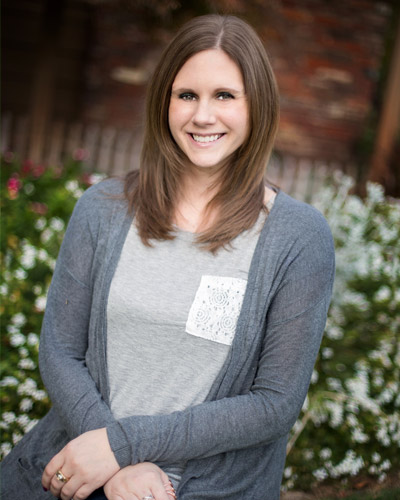 I have always had a passion for understanding relationships, a curiosity for psychology, and belief that our environment has a great impact on our overall development. I graduated in 2006 with a bachelor's degree in Psychology, taught preschool, and worked as an Early Interventionist in homes with children birth to age 3 years. While working as a Behavior Management Consultant, I began to see the impact that one member can have on a family system, as well as how the family can collectively impact the mental health and functioning of one member. I decided to pursue a degree in Marriage and Family Therapy, starting my doctorate program at Alliant International University, Sacramento in 2008 and completing my MA in MFT in 2010.
I obtained my Infant-Preschool Mental Health Specialist Certificate in 2013. While this specialization may seem relevant only for those seeking help with a child, I believe the impact of our early experiences is life-long, and an understanding of these experiences can allow for healing within current and future social and romantic relationships. Whether I am seeing a toddler and her parents, three teens and their single dad, or a couple who is expecting and navigating the transition into parenthood for the first time, I assess the whole family. All relationships are examined for healthy versus unhealthy patterns, attachment styles, generational experiences, and the current living situation. I believe this thorough assessment contributes to improving relationships and decreasing symptoms in any individual family member, even if the child is the one exhibiting concerning externalizing behaviors (anger, rebelling, aggression, and tantrums) or internalizing behaviors (depression, anxiety, isolation, and withdrawal).
Because the whole family system impacts each member, I use a holistic approach to enact change when working with children, couples, and/or families.I am currently finishing up my Doctorate coursework at Alliant International University, and am thrilled to be working with children and families to increase positive communication, connection, and emotional well-being. Working with couples is another area of focus for me, as the blending from two complex families of origin often causes distress for the couple.
Specialties and In-depth training
• Infant Preschool Mental Health (Prevention and Early Intervention for ages 0-6)
• Attachment Difficulties and Disorders (Parent-Child Relationships, Reactive Attachment Disorder, Foster children, & Adoptive Family Therapy)
• Play Therapy (sand tray, art, dollhouse, games, non-directive, child centered)
• ADHD and disruptive behavior problems (Behavior Support Plans, consult for assessment, with schools, etc.)
• 0-5 Developmental Assessments (overall social emotional development as well as additional developmental domains)
• Sensory Integration Difficulties (with ADHD, PTSD, Anxiety, etc.)
• Mood and Anxiety Disorders (Agoraphobia, Social anxiety, Depression, Bi-Polar, etc.)
• Adolescent Therapy and Mental Health Assessments (Individual/Family/Groups)
• Couples Therapy (Intimacy, attachment, communication, addiction/substance abuse, family history)
• Multi-generational difficulties (patterns like divorce, addiction, domestic violence, sexual abuse, etc. within family system
• Blended Family Systems (co-habitation, step-families, other family adjustment issues)
• Parenting (single and co-parent) (Training, coaching, behavior plans and schedules)
• Perinatal & Postpartum Depression (Early onset PPD and recognition of mother and infant needs)
• Children (Adults) of Alcoholics (and addiction)
• Trauma through the lifespan (Post Traumatic Stress Disorder and Complex/Developmental)
• Addiction in the Family (behavioral and substance issues, past and/or present)
Trained Specialities and Services